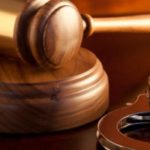 2018 is the start of a new year, but it's always useful and interesting to take a look back at the past year and assess trends and activity.  What follows are some charts showing various statistical numbers kept in the Prosecutor's Office.  You can scroll down through the charts or select a specific chart from the following list:
Criminal Court Filings
Department of Correction Commitments
Reports Received by Category
Reports Received By Agency/Officer
Criminal Court Filings
2017 was once again a busy year for the Prosecutor's Office with an increase in every type of court filing our office is involved with.  There has been a nearly 28% increase in the number of felony cases filed from 2015.

Monthly DOC Commitments
When offenders are sentenced they can receive a number of different placements from prison, to the local jail, to probation, to drug court or community corrections program.  The following chart shows the number of offenders under Department of Correction commitments by month in 2017.  The first column shows the number of individuals at the DOC from Spencer County cases during each month.  The second column consists of offenders that the DOC pays the county jail to house for them.  The third column shows the number of Level 6 offenders house in the county jail because they are ineligible to go to the DOC under the 2014 criminal code reform legislation.  The final columns show the total number of individuals convicted of felonies that received a DOC commitment as part of their sentence.

Reports Received By Category
Before any case can be prosecuted, our office must receive a police report from a law enforcement agency.  The Prosecutor's Office tracks the reports we receive by category as they come into the office.  The following chart breaks down the number of reports received in 2017 by category.  We continue to receive more reports involving illegal drugs than any other category and illegal drugs contribute to many of the other types of crime reports we receive.  The vast majority of drug offenses continue to involve methamphetamine though we have seen a marked increase in the use of synthetic drugs and are starting to see reports coming in involving heroin.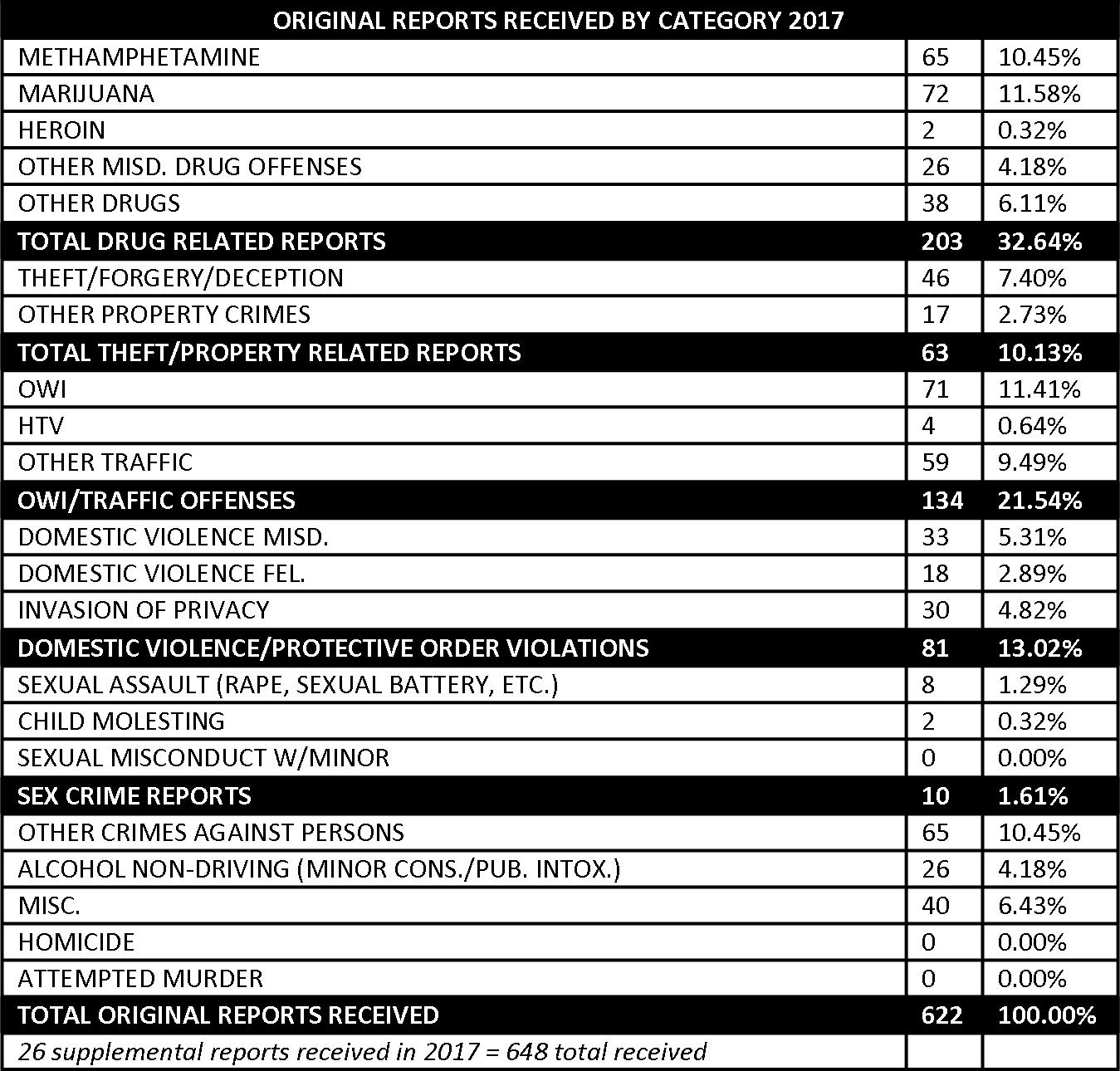 Reports By Agency/Officer
The Prosecutor's Office receives reports from a number of local law enforcement agencies.  The following chart shows the number of reports received from each agency as well each officer within those agencies.  The percentages are the percentage of the 648 reports received in the office during 2017.  Of the 648 reports, 622 were original reports and 26 were supplemental reports related to already submitted cases.  All reports are reviewed to determine whether a criminal offense has occurred and whether sufficient evidence has been obtained to prosecute an offense.  Charges are filed by the Prosecutor's Office where there is sufficient evidence to support a charge.