Angela M. Ward Sentenced to 17 Years with 11 Years Executed on Jan. 5 Following Earlier Guilty Plea and Sentence of Co-Defendant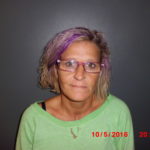 January 5, 2018 ROCKPORT, IN–  Angela M. Ward, 46 of Lamar, was sentenced on Friday, January 5 in the Spencer Circuit Court for one count of Sexual Misconduct with a Minor as a Class C felony, and two counts of Sexual Misconduct with a Minor as a Level 4 felony.  Spencer Circuit Court Judge Jon Dartt handed down the sentence after accepting the terms of a plea agreement entered into by Ward with the Spencer County Prosecutor's Office.
The Indiana State Police and Spencer County Department of Child Services began an investigation in October 2016 after Ward's live-in boyfriend, Jason Tribbie, contacted the Indiana State Police seeking to provide information that Ward had engaged in inappropriate sexual contact with a minor.  During the course of the investigation, law enforcement discovered that Tribbie had been involved in arranging and encouraging inappropriate sexual contact by Ward with two young males while they were under the age of 16.  As part of the investigation, a search warrant was executed at Tribbie's home where evidence of possession and use of methamphetamine was also discovered leading to drug related charges against Tribbie.  Indiana State Police Detective Jason Dunsworth conducted the investigation with the assistance of Spencer County Sheriff's Deputy Kelli Reinke.  Tribbie was arrested on October 5, 2016 on the drug related charges and later charged on January 23, 2017 with the sex crime offenses.  Ward was also arrested on October 5, 2016 and initially charged with two counts of sexual misconduct with a minor the following day.  Subsequent investigation and forensic interviews of the two victims led to the filing of additional charges of sexual misconduct, exploitation, solicitation and child molesting against Ward.  Ward has remained incarcerated at the Spencer County Law Enforcement Center since her arrest on October 5, 2016 on a bond of $200,000 surety/$20,000 cash later increased to $300,000 surety/$30,000 cash.
Ward entered into a plea agreement regarding the charges on December 8, 2017 and entered guilty pleas to three counts of Sexual Misconduct with a Minor– two counts as Level 4 felonies and one count as a Class C felony.
Ward received the same sentence as Tribbie and was sentenced to 17 years to the Indiana Department of Correction with 11 years of the sentence to be executed and 6 years to be suspended.  Upon release from the Department of Correction, Ward is subject to GPS monitoring, is required to register as a sex offender, and will be subject to very strict special probation conditions for adult sex offenders.
Following the sentencing on January 5, Spencer County Prosecuting Attorney Dan Wilkinson said, "As I stated after the sentencing of the co-defendant in this case, the efforts of Det. Jason Dunsworth and our multi-disciplinary team for child abuse investigations in this case allowed us to develop the evidence necessary to achieve successful prosecutions and substantial sentences in these cases by agreement without subjecting the victims to the trauma of testifying at depositions and trials.  Our multi-disciplinary team approach and protocols in these types of investigations continue to lead to more cases being prosecuted and to better results."  
The public is encouraged to report suspected child abuse or neglect by calling the Indiana Department of Child Services at (800) 800-5556 or local law enforcement. Anyone with information regarding criminal activity of any kind may leave a tip anonymously through the Spencer County Crime Tip Line at (800) 615-6088 or online at http://spencoprosecutor.org/crime-tip-line/.