Anthony Barnes to Receive Prison Sentence of 15 Years
Through Agreement Reached with Prosecutors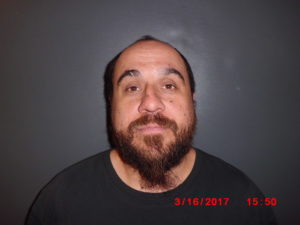 NOVEMBER 21, 2017 ROCKPORT, IN–  Anthony L. Barnes, 41, of Hatfield plead guilty this morning to Possession of Methamphetamine over 28 grams as a Level 3 Felony and Possession of Firearms by a Serious Violent Felon as a Level 4 Felony in Spencer Circuit Court.  Barnes entered into a plea agreement with prosecutors just prior to the commencement of the jury trial in his case.
Barnes was arrested March 16 on multiple felony charges.  Indiana State Police had surrounded Barnes' residence in Hatfield on February 17 to assist the Spencer County Sheriff's Department in executing a search warrant obtained with the assistance of the Spencer County Prosecutor's Office.  After a lengthy standoff, it was ultimately determined that Barnes was not inside the residence and, despite phone negotiations, Barnes never returned to the home.
The search warrant was executed by Deputy Blake Clark of the Spencer County Sheriff's Department with the assistance of Deputy David Hall and ISP Trooper Kaitlyn Greene.  During the search of Barnes' residence, officers located over 40 grams of methamphetamine, three weapons–a .40 caliber Taurus handgun, a Beretta 9mm handgun and a Springfield .22 caliber long rifle, along with a variety of ammunition and shell casings.  Barnes was prohibited from possessing firearms due to a prior felony conviction of Attempted Escape in 2001 which is considered a serious violent felony under Indiana law.  Reports of shots being fired by neighboring residents including one neighboring home being struck by bullets began the investigation that ultimately led to the request for a search warrant by the Spencer County Sheriff's Department.  During the search for weapons, officers located over 40 grams of methamphetamine and then a second search warrant was requested for evidence of methamphetamine and controlled substances.  Five prescription narcotic pills were also found during the search.
Following execution of the search warrant, charges were filed and an arrest warrant issued for Barnes on February 23.  Barnes was apprehended on March 16 in Evansville by U.S. Marshals and transported to the Spencer County Law Enforcement Center by the Indiana State Police where he continues being held on bond of $300,000 surety or $30,000 cash pending the final sentencing hearing .
According to Prosecuting Attorney, Dan Wilkinson, "This would have been a serious case in any event, but was even more serious in that the actions of the Defendant posed a significant danger to neighboring residents.  The Defendant will spend at least the next decade behind bars which is an appropriate result in this case.  I appreciate the work of Deputy Blake Clark and assisting officers in collecting and securing the evidence in this case, as well as the efforts of the Indiana State Police SWAT team in insuring the safety of everyone involved.  My office will continue to take the meth problem in Spencer County seriously and seek stiff penalties in appropriate cases where the evidence and the law allow ."
Barnes is expected to appear for sentencing in the Spencer Circuit Court before Senior Judge William Weikert on Tuesday, January 23 at 9:00 A.M. following completion of a pre-sentence investigation report.  Under the agreement reached with the Spencer County Prosecutor's Office, Barnes will receive a sentence of 15 years fully executed at the Indiana Department of Correction.
Members of the public are encouraged to report suspicious activity.  Tips and information can be provided anonymously by calling the Spencer County Crime Tip Line at (800) 615-6088 or by submitting information online at spencoprosecutor.org.