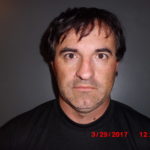 APRIL 6, 2017 ROCKPORT, IN—  Randall K. Allen, Jr., 40, of Santa Claus was arrested on March 29, 2017 on one count of Child Exploitation, a Level 5 Felony.  Task Force Officer Bryan R. Brown of the F.B.I. began an investigation of Allen in August 2015 concerning a report that Allen had transmitted images of child pornography to another individual through a website called Adult Friend Finder.  The Indiana State Police later assisted the F.B.I. with analyzing computer evidence and locating the alleged images of child pornography.
The Spencer County Prosecutor's Office filed one criminal count of Child Exploitation as a Level 5 Felony against Allen with a request for an arrest warrant on March 27 alleging that Allen knowingly or intentionally disseminated ten images of child pornography to another person.  Allen was served with the warrant and taken into custody on March 29.
Allen is presently being held in the Spencer County Law Enforcement Center on bond of $40,000 surety or $4,000 cash.  According to Prosecuting Attorney, Dan Wilkinson, "Allen faces anywhere from 1-6 years at the Indiana Department of Correction on the charge, if convicted."
Allen appeared by closed circuit video for an initial hearing in the Spencer Circuit Court on Thursday, April 6 at 10:00 A.M. where he was appointed a public defender and his next court appearance was set for May 5, 2017 at 9:00 A.M..
Under the law, criminal charges are merely accusations and all defendants are to be presumed innocent unless and until proven guilty.