Sentence follows conviction by
a Spencer County jury on March 1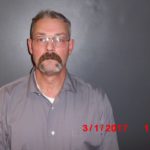 March 21, 2017 ROCKPORT, IN–  The Spencer Circuit Court sentenced Todd Neal Thompson, 52, formerly of Evanston, on Tuesday following his conviction for possession of child pornography by a Spencer County jury on March 1.
Spencer County Sheriff's Department Deputy, David Hall, in cooperation with the Spencer County Department of Child Services executed a search warrant for Thompson's home on September 19, 2014 for computers and various electronic storage devices.  An analysis of the seized evidence by Indiana State Police forensic Computer examiner, Det. Sgt. David Price, identified 44 images of child pornography on Thompson's personal computer and Thompson was later arrested following the issuance of an arrest warrant.
A Spencer County jury of three women and three men (and two alternates) heard testimony during the course of a day and a half trial that concluded on March 1.  The jury convicted Thompson of one count of possession of child pornography, a Level 6 felony, and acquitted Thompson on several other related Counts involving possession of some of the same images on different dates.  Thompson was ordered back into the custody of the Spencer County Law Enforcement Center pending sentencing following his conviction.
At the conclusion of the sentencing hearing, Spencer Circuit Court Judge, Jon A. Dartt, sentenced Thompson to the maximum sentence of 2 1/2 years with 1 year to be served in the Spencer County Law Enforcement Center and the remaining 1 1/2 year to be served on supervised probation.  As a result of the conviction, Thompson will be required to register as a sex offender and be subject to special probation conditions for adult sex offenders.
"While I am pleased with the sentence handed down by the Court, I am disappointed that the defendant in this case is not eligible to be sent to prison following the recent criminal code reforms passed by the Indiana General Assembly which does not generally allow Level 6 felons to serve time in the Department of Correction.  Child pornography is not a victimless crime.  Those who view child pornography or make it available to others are actively contributing to the perpetuation of child abuse caused by the creation of such material and are directly victimizing those children by once again invading their privacy.  They also provide continued financial motive for producers of this material by helping perpetuate the existence of this underground industry."    

—Spencer County Prosecuting Attorney, Dan Wilkinson