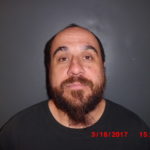 MARCH 16, 2017 ROCKPORT, IN–  Anthony L. Barnes, 40, of Hatfield was arrested March 16 on multiple felony charges.  Indiana State Police had surrounded Barnes' residence in Hatfield on February 16 to assist the Spencer County Sheriff's Department in executing a search warrant obtained with the assistance of the Spencer County Prosecutor's Office.  After a lengthy standoff, it was ultimately determined that Barnes was not inside the residence and, despite phone negotiations, Barnes never returned to the home.
Following execution of the search warrant, charges were filed and an arrest warrant issued for Barnes for Dealing in Methamphetamine, a Level 2 Felony; Possession of Methamphetamine, a Level 3 Felony; Unlawful Possession of a Firearm by a Serious Violent Felon, a Level 4 Felony; Possession of a Narcotic Drug, a Level 5 Felony; and Possession of Paraphernalia, a Class C Misdemeanor.
Barnes was apprehended on Thursday in Evansville by U.S. Marshals and transported to the Spencer County Law Enforcement Center by the Indiana State Police where he is presently being held on bond of $300,000 surety or $30,000 cash.  According to Prosecuting Attorney, Dan Wilkinson, "Barnes faces anywhere from 10-30 years on the Dealing charge and 2-12 years on the firearm charge.  I know many nearby residents were concerned and anxious for Barnes to be apprehended and I'm glad we can report that the U.S. Marshals were able to assist in getting the warrant served and placing Mr. Barnes in custody."
Barnes is expected to appear for an initial hearing in the Spencer Circuit Court on Tuesday, March 21 at 1:00 P.M.  Further court dates will be set at that time.
Under the law, criminal charges are merely accusations and all defendants are to be presumed innocent unless and until proven guilty.